Crew members near the command trailers. Each trailer represents a different area of logistics management for the fire camp.
The communications trailer - the hub for all live information for coordinating crews in the field.
Peter on duty in the communication station. Personnel in this trailer typically know more about the fire than the people on the ground do.
A crew reviews the command booklet for the day. A new booklet is printed every morning, including maps and information about each crew's daily assignments. At the height of the fire each day's booklet was about 50 pages.
Communication crew members at the battery station. The batteries for all walkie talkie and portable devices are changed every day to ensure reliability. Crates hold each crew's replenished devices, ready for the next day's use.
Frederick, a member of the Crow Nation in Montana, has been fighting fire for decades. It is common to find Crow people working on fire crews (either in the field or as camp support). Though seasonal, it is one of the more reliable opportunities in an area plagued by unemployment.
A support crew relaxes at the end of the day.
Frederick and a fellow crew member show their hand decorated work gloves. "A generation ago," she said, "these would have been beaded."
A support crew relaxes at the end of the day.
Steve manages the water pump & heater truck. for the showers. Approximately 18,000 gallons of water can be heated to 80degrees within several minutes.
Two tractor trailers hold 16 total showers for the camp. Everyone likes shower #12, because it has a shower curtain that looks like Hawaii. It is one of the few showers occupied during my visit.
Lenora takes a break outside the laundry truck.
A laundry crew member checks the dryers.
Deleza tags a finished bag of laundry. Laundry service is only brought in once a camp reaches a certain size. They use a number tag system so crew members can drop off their laundry and pick it up later when it's ready.
Starbucks coffee is available throughout the day at the camp.
Tom prepares dozens of steaks for the grill. Besides steak, tonight's meal will include roasted potatoes, peas & onions, vegetable goulash, and a salad & dessert bar. Fire crew members are fed 6000 calories a day to sustain their strenuous activity.
The salad bar in the dining tent.
Dinner being served from the kitchen truck window. Rookie fire crews tend to eat first at the end of the day; veteran crews know it's more important to bathe first, then eat.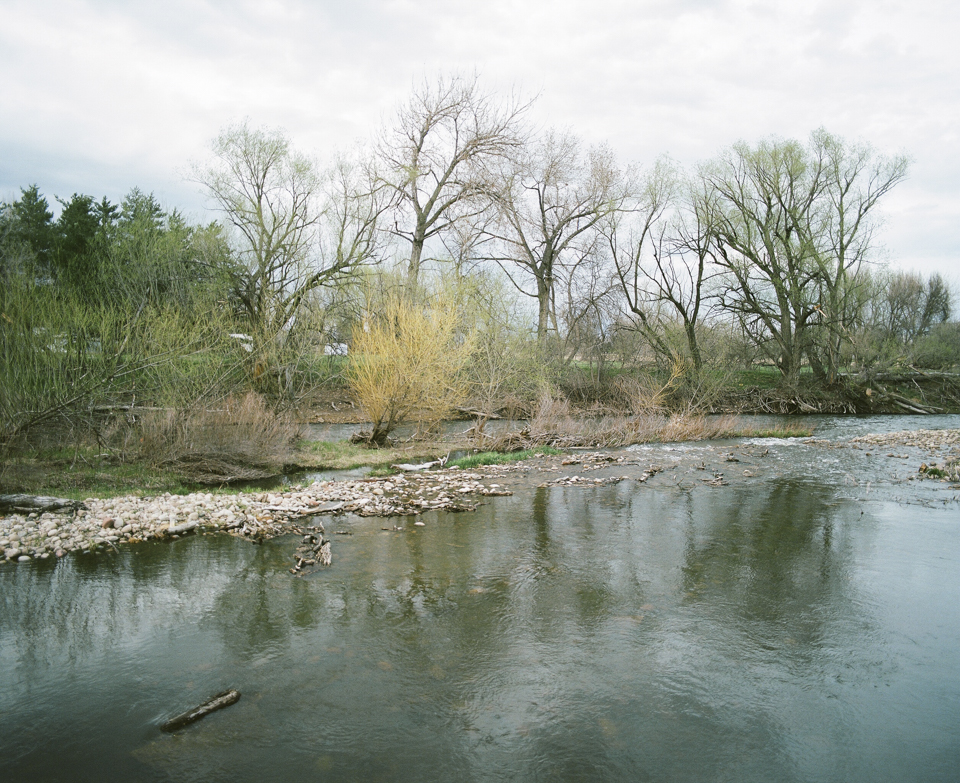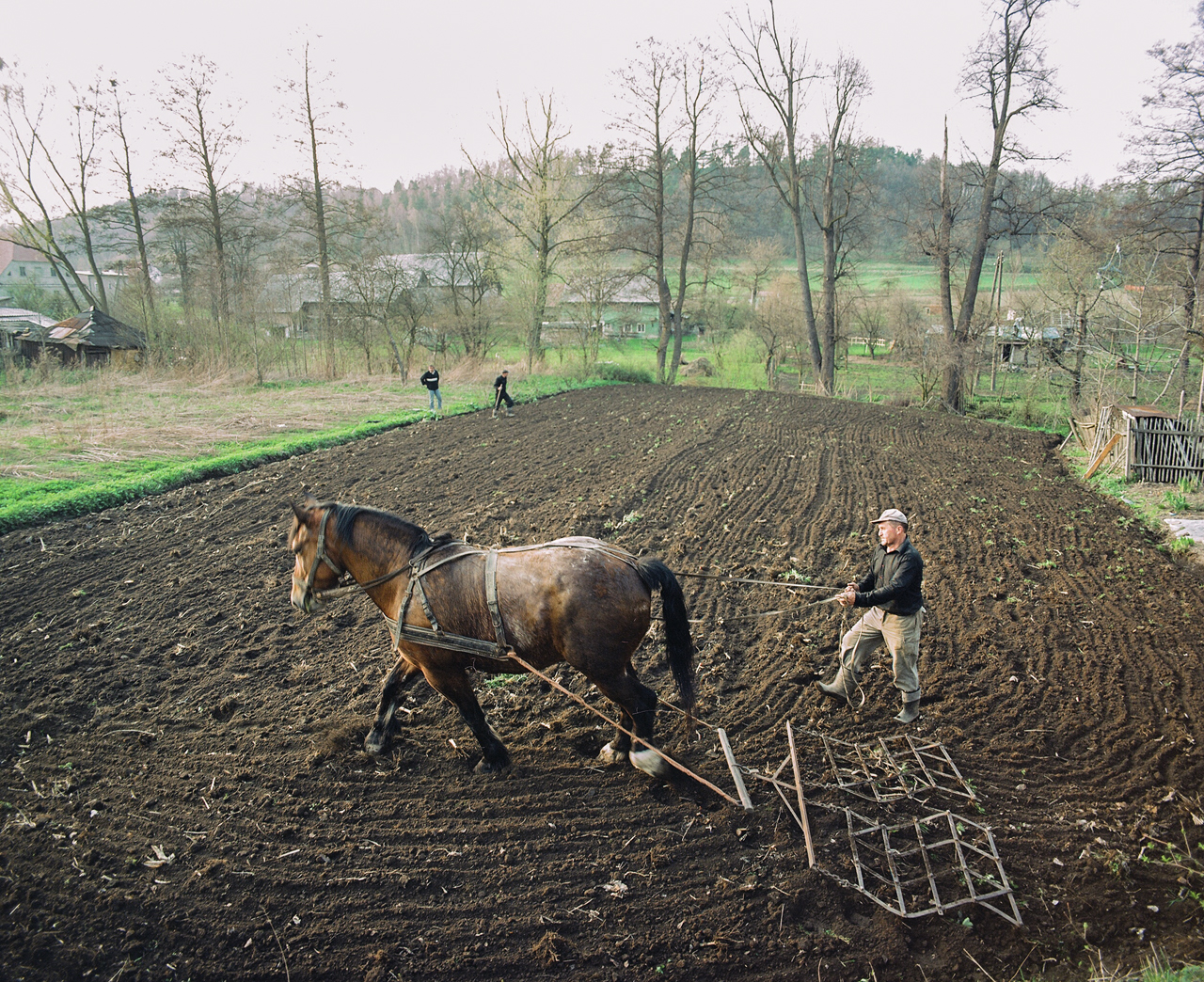 DoubleTree
When I moved to Double Tree Drive from the heart of Old Town Fort Collins, I found a different place here on the outskirts than most people would recognize, though it's still the same incorporated town. There is a familiarity of presence on the street that is at once public yet intimate, circumscribed yet free. I wanted to explore these tensions and relationships visually, and enter into them as I take my own place here. This project is occasionally ongoing.
Fire Camp
For three weeks in the summer of 2012, the High Park Fire raged over 87,000 acres in Larimer County, CO. Dramatic smoke plumed from the western horizon, and fire crews from all over the nation came to battle the blaze. But miles from the heart of the fire, as with most wildfires, the crews had a place to eat, sleep, and bathe - a temporary camp for 2000 people, sustained by trailers, tents, and 200 support personnel. "Most people think that fighting fires is about having this wall of flames right there. But most of the time, it's looking down at the ground with a shovel, and digging and smothering the embers." It's also about cooking dinner for hundreds, folding laundry, and yes, coffee from Starbucks.
Glass Stone Fiber
A contemporary art installation and exhibit at the historic Loveland Feed & Grain building, featuring artists whose media are glass, stone, or fiber. The opening event featured live music, glass-blowing demonstrations, fiber performance art of a wall-sized weaving, local food, and artisan craft vendors.
Goat Herder
One afternoon near the industrial-river-rail intersection of east Fort Collins, I came upon a large herd of goats and a man named Michael, who herds them. Goat herding is still a thing in modern American places. In fact, goats are among the most effective, inexpensive, and sustainable ways to care for open spaces without herbicides, which is why they'd been hired here. They eat the weeds and leave the grass. They work fast and they fertilize it as they go. They like their job. Michael likes his job, too. He lives in a camper trailer wherever the goats are hired. His herding tools are a four wheeler, a pickup truck, two dogs, and lots of temporary fencing. After their work in Fort Collins, he and the goats were headed to Texas to spend the winter minding weeds on Tommy Lee Jones' ranch.
River
An ongoing project exploring the life of the Cache La Poudre River. What are the ways of this river as a natural phenomenon, and one that we bear multiple relationships to - for drinking water, agricultural use, gravel mining, beauty, and physical recreation, among other things? How can exploring these coexisting relationships help lend insight and consideration to the increasingly complex issues of water in the west, and help us prioritize sustainable use and existence of the river?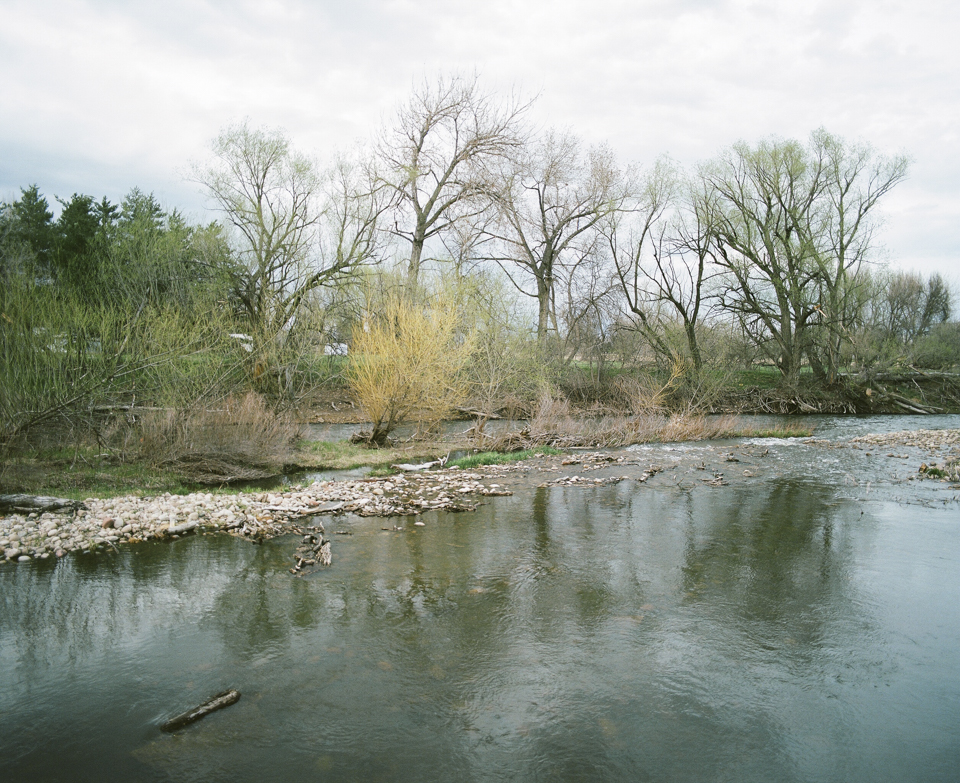 Tim
Over the past months, I've been meeting with Tim, a resident at Harvest Farm in Wellington, CO. It's an addiction rehabilitation facility but also a working farm. I wanted to follow Tim through his time there as it paralleled the growing season. What's it like for him to be there? What difference, if any, does learning to grow and care for plants make in a situation like Tim's? This ongoing project is currently being edited.
Poland
I lived in southwestern Poland for more than two years. Among other things, it was the first place where I experienced a life described by seasonality, primarily in the rhythms of agriculture, but also in the underlying cycles of the Catholic church. Together these forces gave shape to months, weeks, and days, wherein there were distinct times of work and more strikingly, of restraint. Sometimes, access to commercial services and goods simply wasn't available, nor was there concern that they should be. The pace was neither compressed nor expanded, but reflected what the season (meteorological or liturgical) required. It wasn't a place of ease and its complexities were more than this description encompasses, but the stillness of it, the experience of such rhythms, has stayed with me.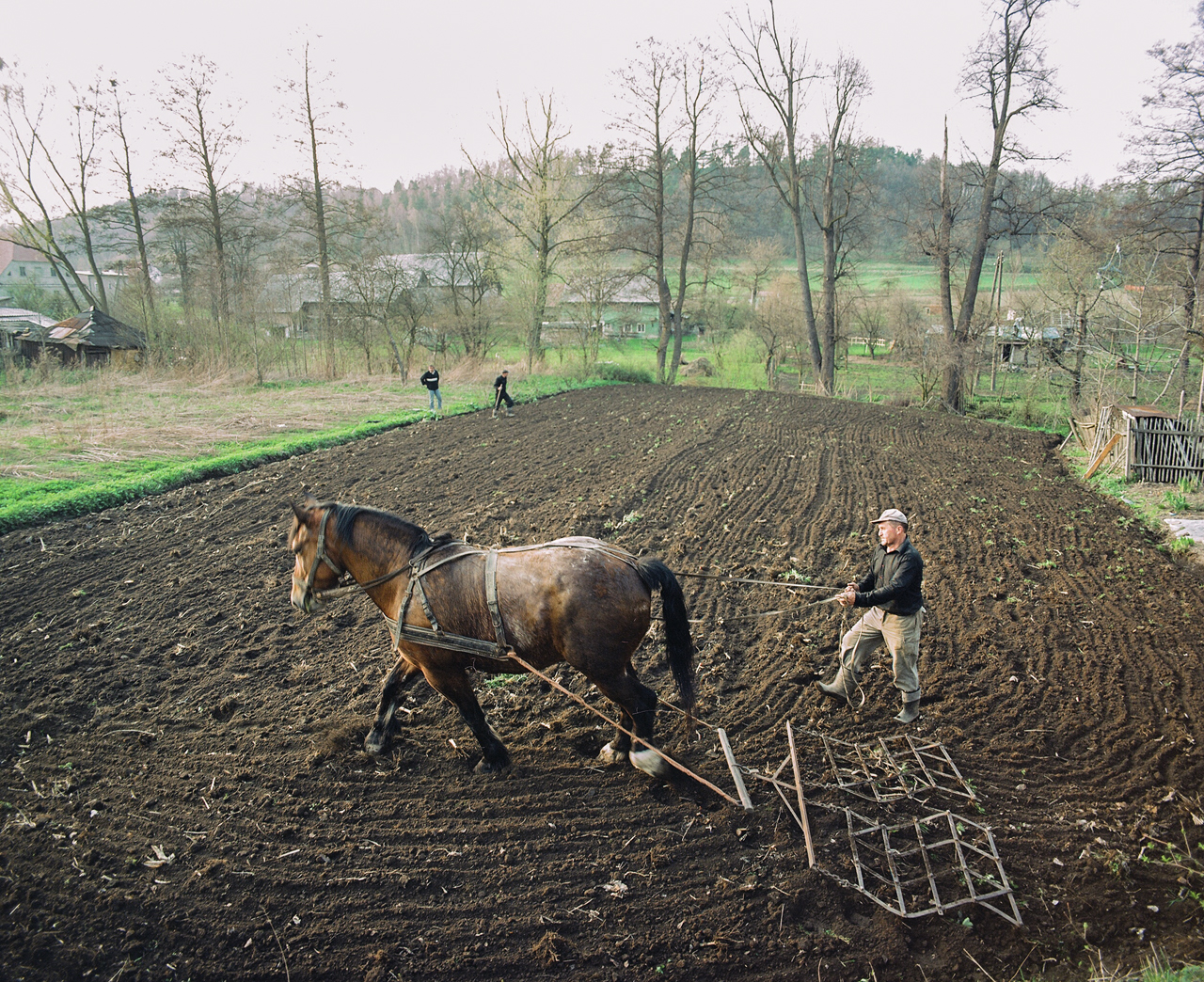 Hanika Parish, Rwanda
In August 2015, I traveled with a small team from Christ Our Hope Anglican Church in Fort Collins, CO, to visit their sister congregation in Hanika Parish, Rwanda. It was a trip to celebrate their relationship and explore new ways to learn from each other. Pursuing the life of faith and reconciliation in light of the 1994 genocide remains something difficult to comprehend. To the American Christians, it couldn't help but lend an entirely different depth to the Rwandans' practices, even as they spoke little of their genocide experiences. Local faith leaders have a trusted influence on the people in their communities, and often serve as de facto liaisons and advocates between them and political leaders. In Hanika Parish, their holistic approach to development is strong and admirable. They tend spiritual, educational, vocational, and health needs; they also train local leaders in these areas so that individuals and communities will be empowered to continue growing and thriving on their own terms. Over and over, the American visitors were met with impossible hospitality: singing and dancing in sanctuaries with crumbling floors and ceilings strung with bright flowers or festive toilet tissue. One congregation was building their own building when we met them. Another waited for us under a large avocado tree where they regularly meet since they didn't have a building yet. The relationship between Fort Collins and Hanika parishes continues through support of the Rwandans' development programs, and with hopes of learning from their practices of wrestling with reconciliation and holistic faithfulness.
Yellowstone